I don't trek. Not that I have anything against walking. But the meaning of trekking according to the dictionary is to "travel or migrate, especially slowly or with difficulty". Tell me why would I want to travel slowly and with difficulty when I can travel quickly and easily?  So in a moment of what can only be described as temporary insanity, I decided to do Mt Everest Base Camp. 
Sure, I was full of confidence when I booked the trip from the comfort of my living room. But as the departure date sped towards me, I wondered what the hell I'd been thinking.  My first plan was to get fit. Unfortunately I lived in quite possibly the flattest and hottest city in Australia, which is not very conducive to preparing for Base Camp. There were no hills for me to climb so I started to spend some time on my treadmill. Of course this is not the same as walking out in nature, but it would have to do. Once I had bought my backpack, I started wearing it on my treadmill. I slowly started to fill it with all the things I would be taking to help me get used to the weight.  
Finally it was time to leave. I would fly into Kathmandu and then from there I had decided to go to Tibet before I did my trek. This idea had its pros and cons. The good thing was that it would help me acclimatise to the altitude. The bad thing was that it made me realise how incredibly tough it was to be up that high. I spent a night at 5000 metres and I honestly have to say it was the toughest night of my life. I couldn't sleep and I felt sick. I had also lost my appetite and had an unbearable headache. Then to make things worse one of the ladies in our group had to be evacuated due to possible high altitude cerebral edema. If she had stayed with us she would have died. She was fit and healthy and it made me wonder if I had truly made the wrong decision.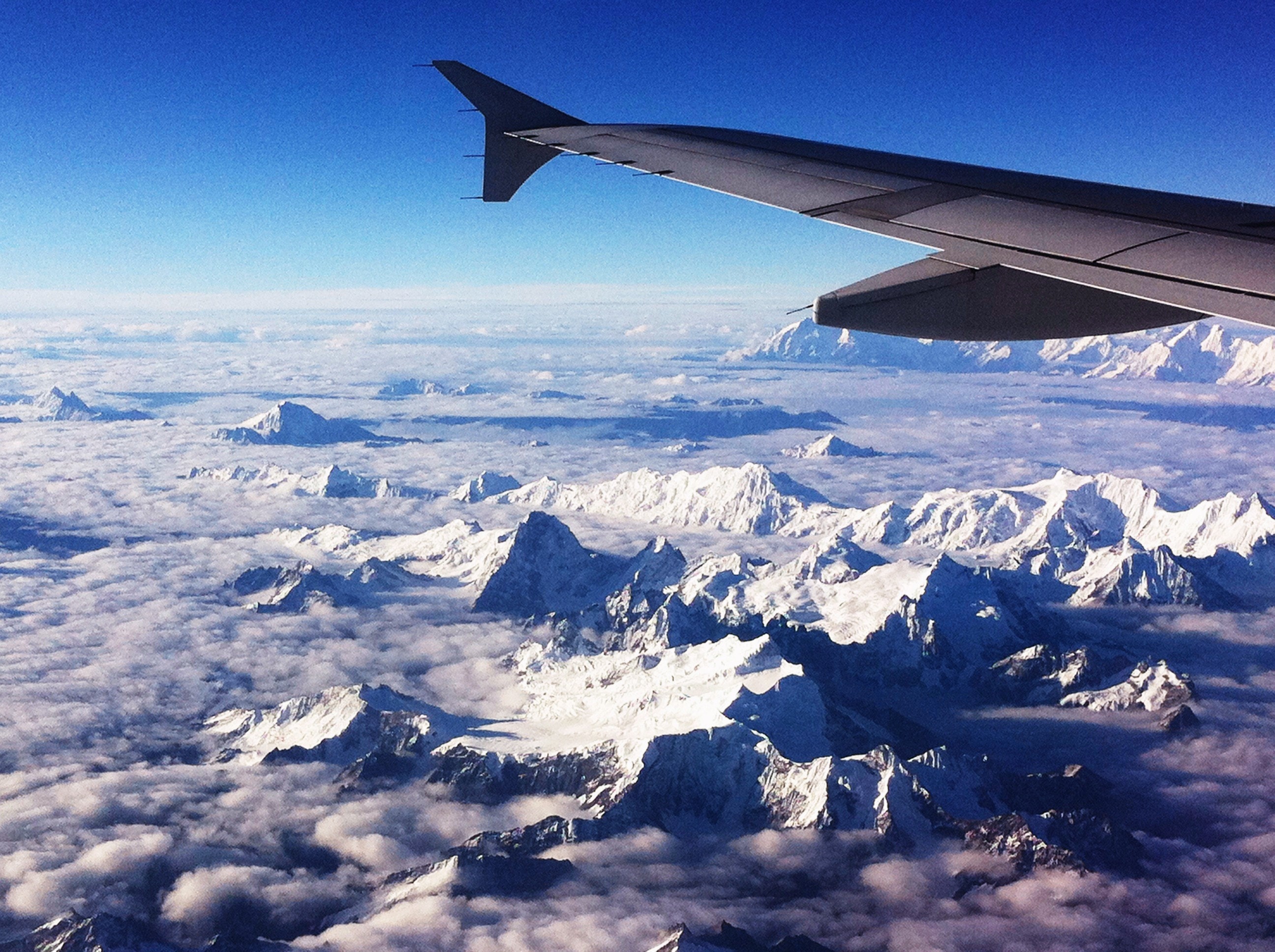 Flying over the Himalayas on the way to Tibet.
Once I started my trek I would be spending the night at 5140 metres. How was I going to cope?  After Tibet I went back to Kathmandu for a few days. I was now pretty certain that I did not want to do my trek. There is nothing fun about being up so high. But what was I to do? I had already paid for it. I spent a day hiding away in my hotel room and got my head back into a positive mental state. Well, positive enough to decide to go through with it. I met the others that would be joining me in this little adventure. Four of the girls were aged from 19 - 21 years old. I was a good 20 years older than them. But I must admit I couldn't help but be charmed by their limitless naive enthusiasm.
After some last minute shopping for supplies, we all bonded with several beers before we flew out to Lukla in the morning.  When I saw the plane that we were to be flying to Lukla on, I instantly regretted all the beers I had the night before. Lukla airport is apparently the most dangerous airport in the world and I was going to be flying to it in a piece of scrap metal with wings. As the plane flew higher to miss all the surrounding mountains, I was sure that we would fall out of the sky. The engine sounded as though it was about to blow up and even the slightest bit of turbulence threw us around the skies. But if I thought the flight was bad, that was nothing compared to the landing! 
The runway at Lukla is only 460 metres long and it's perched on a hill. We literally nosedived towards the runway and I shut my eyes and hung on as tight as I could to the seat. Then miraculously we touched down. I wasn't entirely sure my that my legs would be strong enough to stand up. And just to think, once I had completed my trek, I had to fly back to Kathmandu. Oh joy.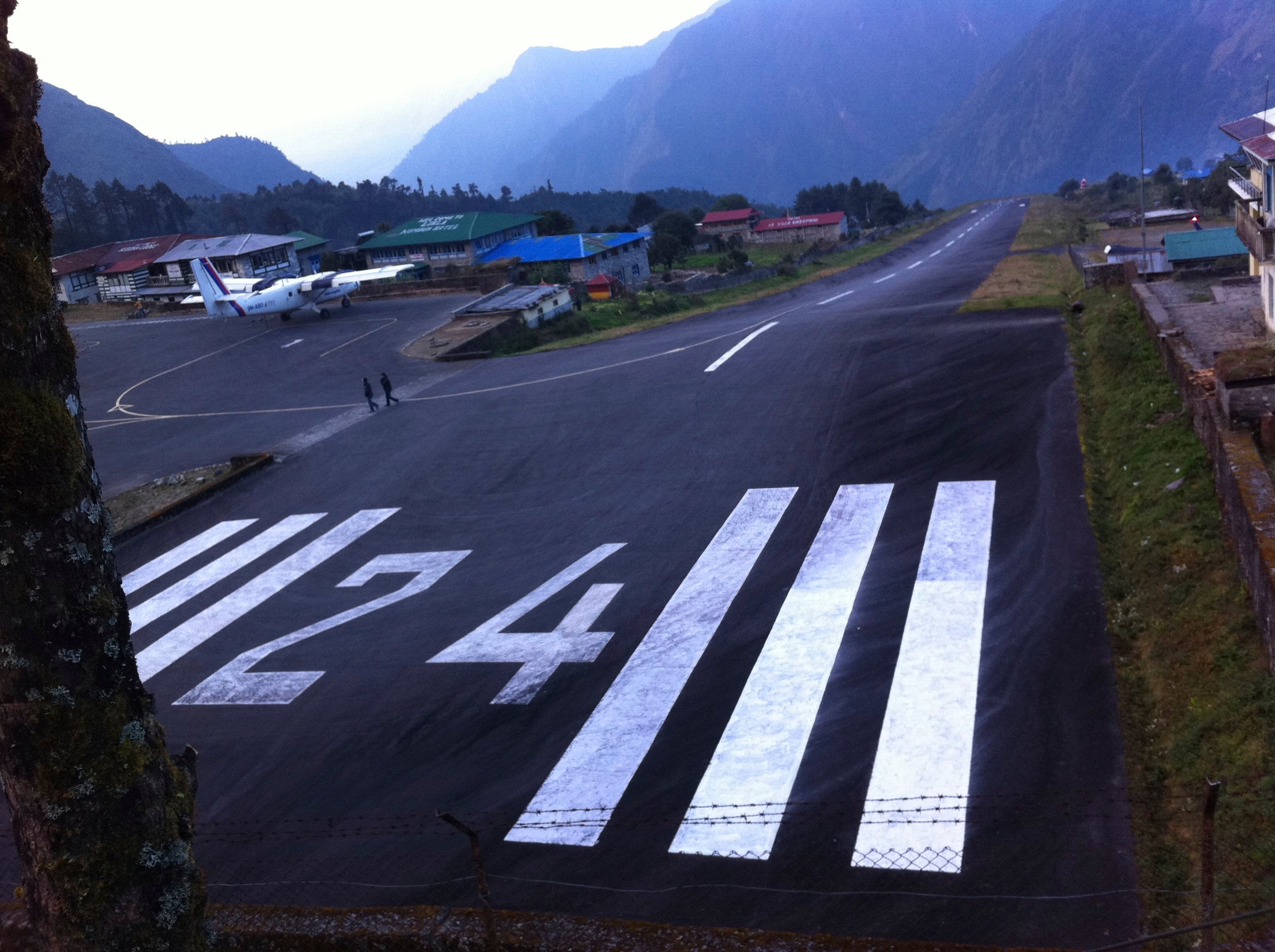 The very short runway at Lukla Airport.
We walked for 20 minutes from the airport to the place where we would be having lunch. We met our porters who had the unenviable task of carrying our backpacks. Once we were done with lunch we would be walking for 4 hours to Phadking where we would spend the night. Nothing like getting straight into the trek I thought. It was a tough 4 hours too. Not only did I have a slight hangover but we had to take a detour and climb over a fresh landslide. I couldn't help but constantly look down below to where the mountain used to be. We had to use exposed tree roots to steady ourselves so we didn't go tumbling off the edge. Eventually we made it to Phadking and I was so exhausted I went straight to sleep. One day down. Only 13 more to go.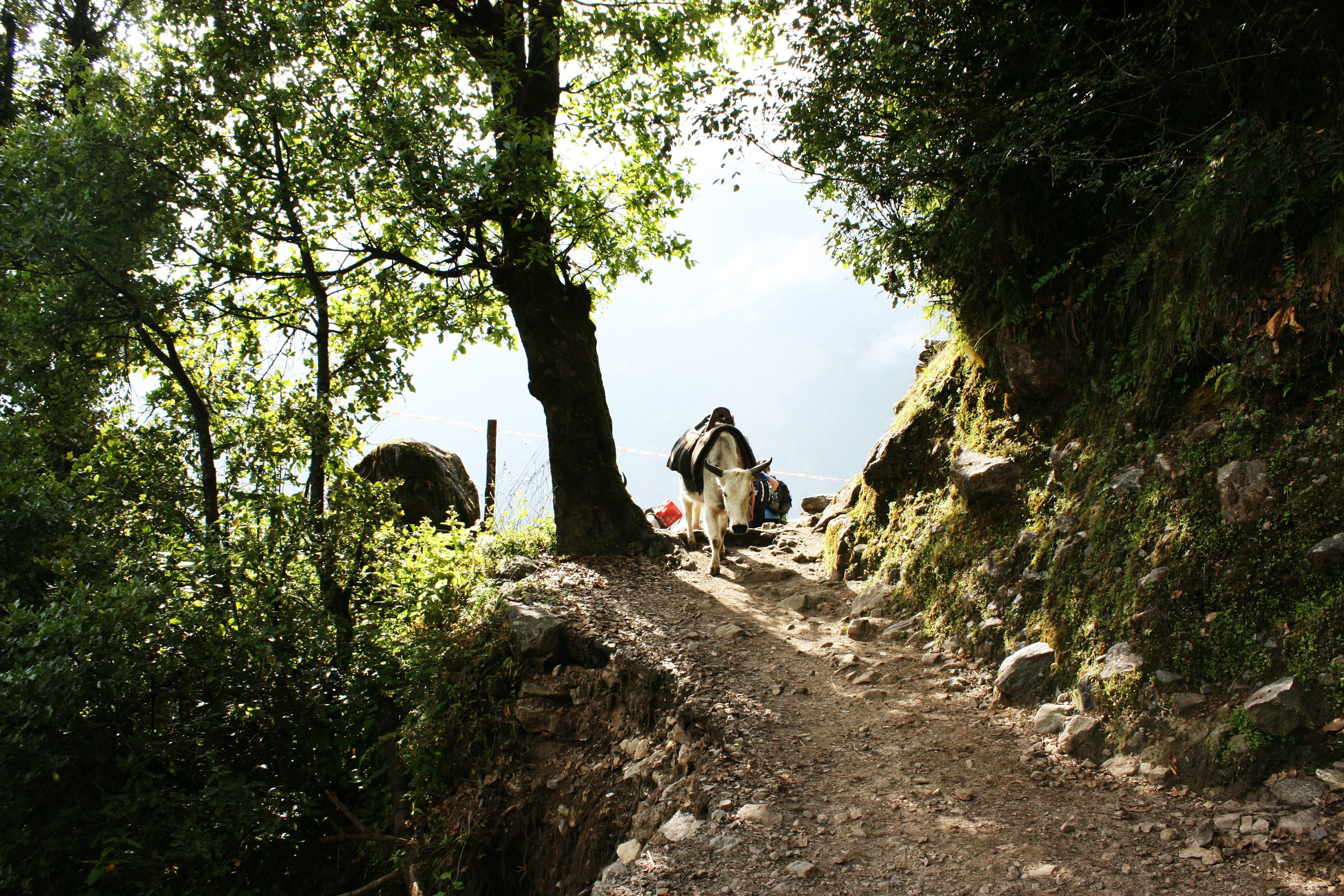 Sharing the path with yaks was quite common.
The next day we were up early to head to Namche Bazaar. Once there, we would have a rest day which we were all excited about. Until we found out that the rest day included a 3 - 4 hour hike to acclimatise. We walked all day and the going was tough. The uphill was steep and there seemed to be endless stairs. We climbed up for a while and then back down, which just meant that we would eventually have to climb back up at some point. By the afternoon we had made it to Namche Bazaar. I felt an enormous sense of accomplishment. After all, I had never trekked in my life and I had made it through the first 2 days. Of course all that would change in the morning.....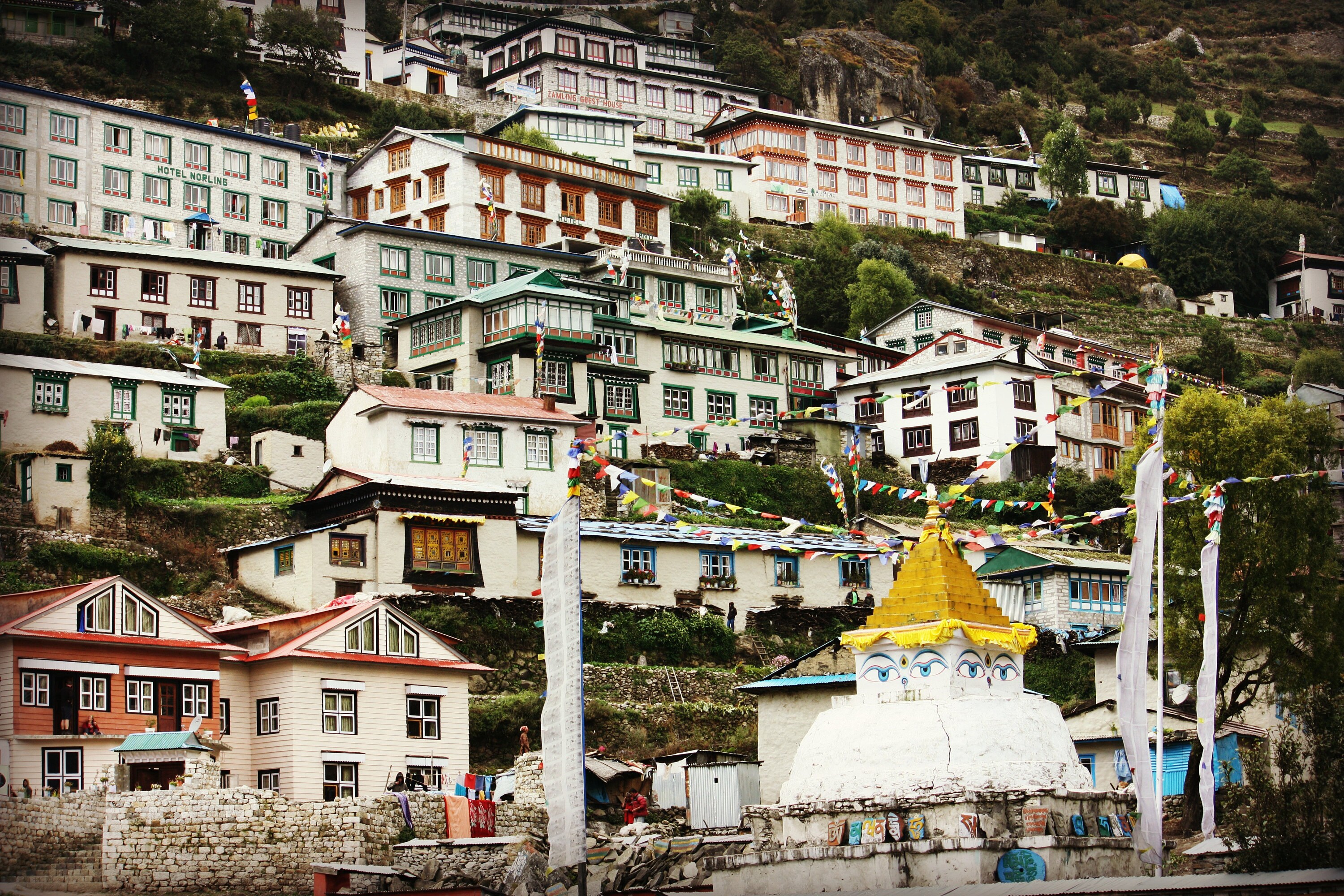 The town of Namche Bazaar.
We got up to do our acclimatisation walk which was up the nastiest looking hill I had ever seen. It literally went straight up and was littered with stairs and boulders. We started off but before too long I was way behind the rest of the group. I got about half way up and realised that I had not one ounce of energy. And my knees hurt. I told the assistant guide that I couldn't go any further. He told me just to go until we reached the airport. Airport? Why the hell didn't we just fly into here and save ourselves 2 days of walking? I ate some chocolate and begrudgingly kept walking. My guide kept telling me it wasn't much further but I suspected he was lying.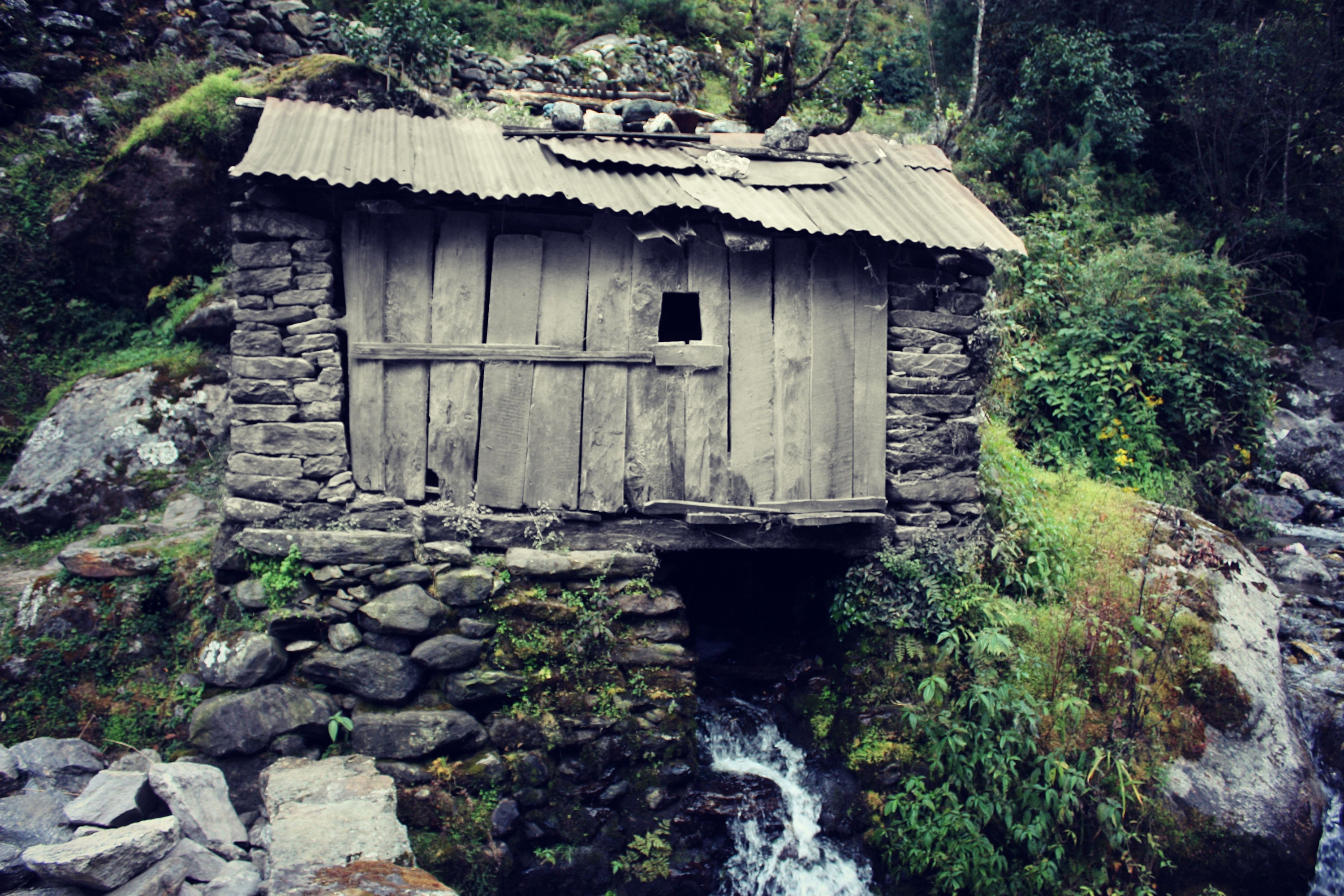 A watershed high up in the mountains.
After what seemed like an eternity we made it all the way up the nasty looking hill. The rest of the group were going further up but it was decided that I should go back down and rest. No arguments here my friends!  After our rest day we were back on the track and heading to Phortse. The track was varied which made it more bearable. After the tough uphill bits we would get a break by walking along some fairly flat parts. There was one point where we had to walk all the way down to the bottom of the hill, cross the river, and then walk all the way back up the other side. We had crossed a million footbridges on this trek, so why they hadn't put one in here is anybody's guess.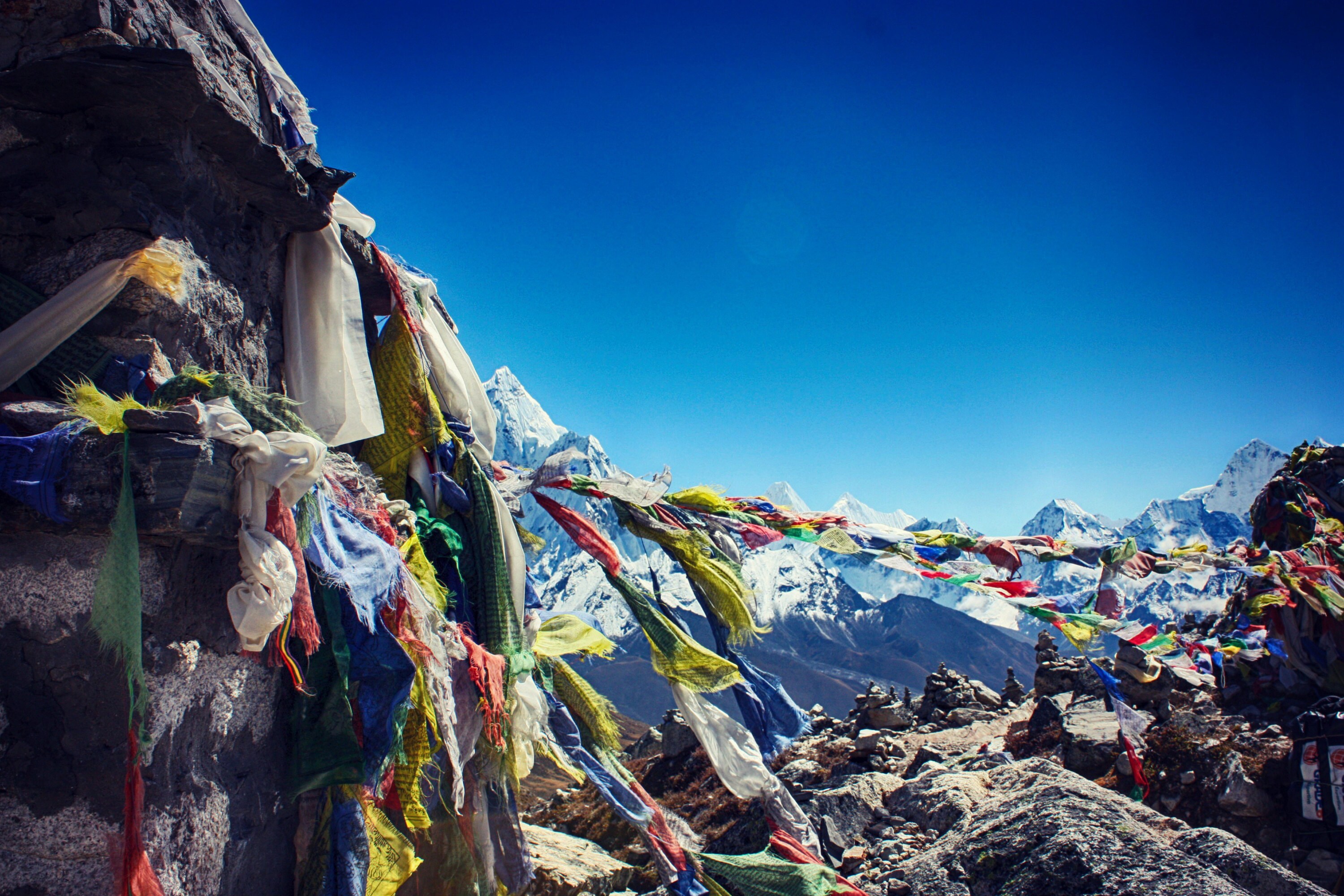 Prayer flags with the Himalayas in the background.
After a night at Phortse we headed up to Dingboche. Once there, we would be having another rest day. This of course included just a "quick" 3 hour trek. I had already decided that I wasn't going to do it and luckily my guide agreed. I was having trouble with my energy levels and the pain in my knees was getting worse. I was only 39 but suddenly I felt 60.  I spent some much needed time alone to get my headspace right. By the time the rest of the group returned from the walk, I felt renewed with positivity.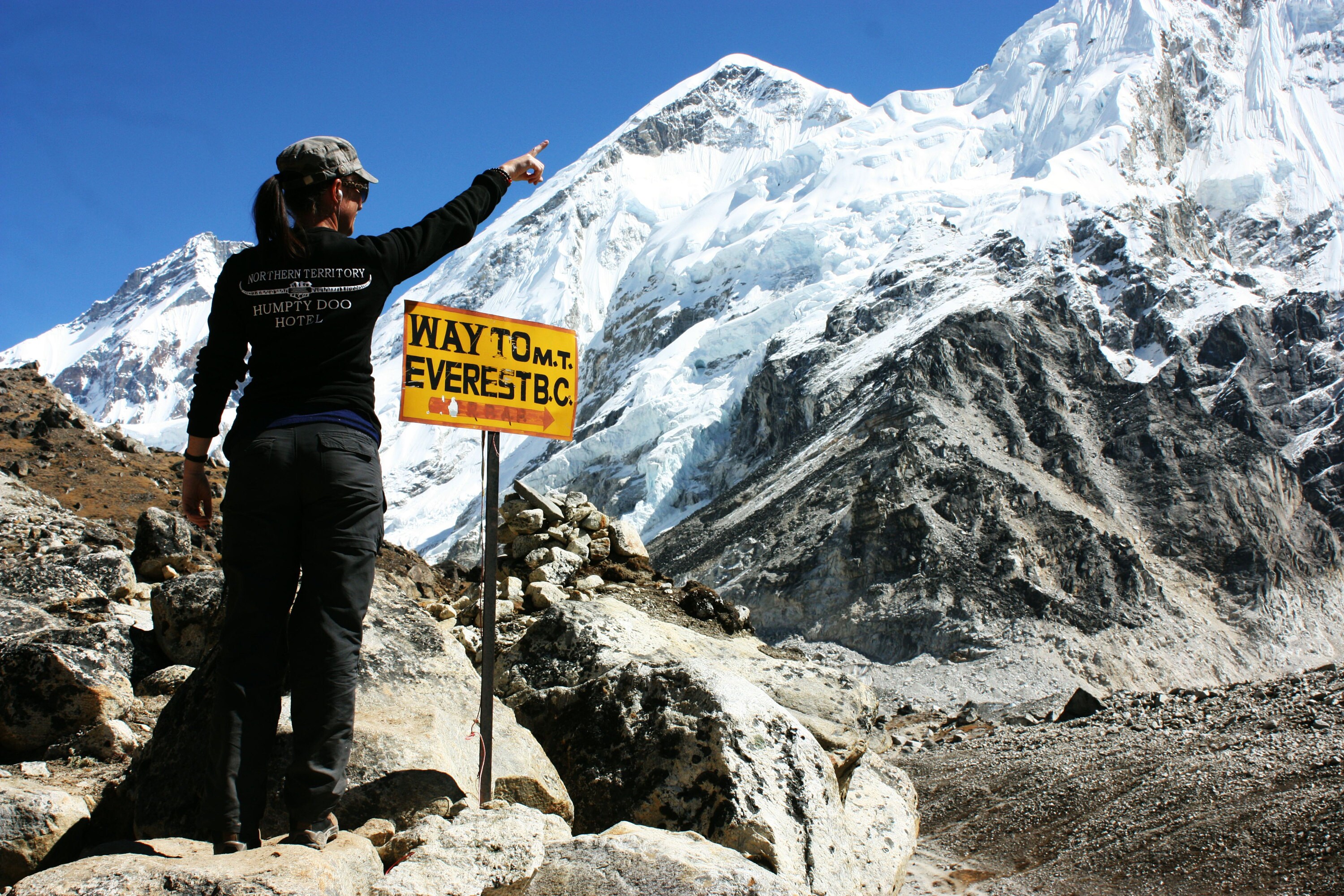 Its that way!
We left Dingboche the next day and headed up to Lobuche. We were now above the tree line. The wind was getting colder and despite the perfectly sunny days, the temperature was dropping the higher we went.  We walked on. Suddenly walking for 8 - 9 hours a day seemed like second nature. We finally came across some flat terrain which gave my knees a bit of a break. Unfortunately I was in some major pain. We arrived at Lobuche and went to the teahouse where we would be spending the night. The dining area was on a rather pronounced slant. This combined with the dizziness of the altitude made for a very surreal experience. I was expecting to run into the Mad Hatter at any point...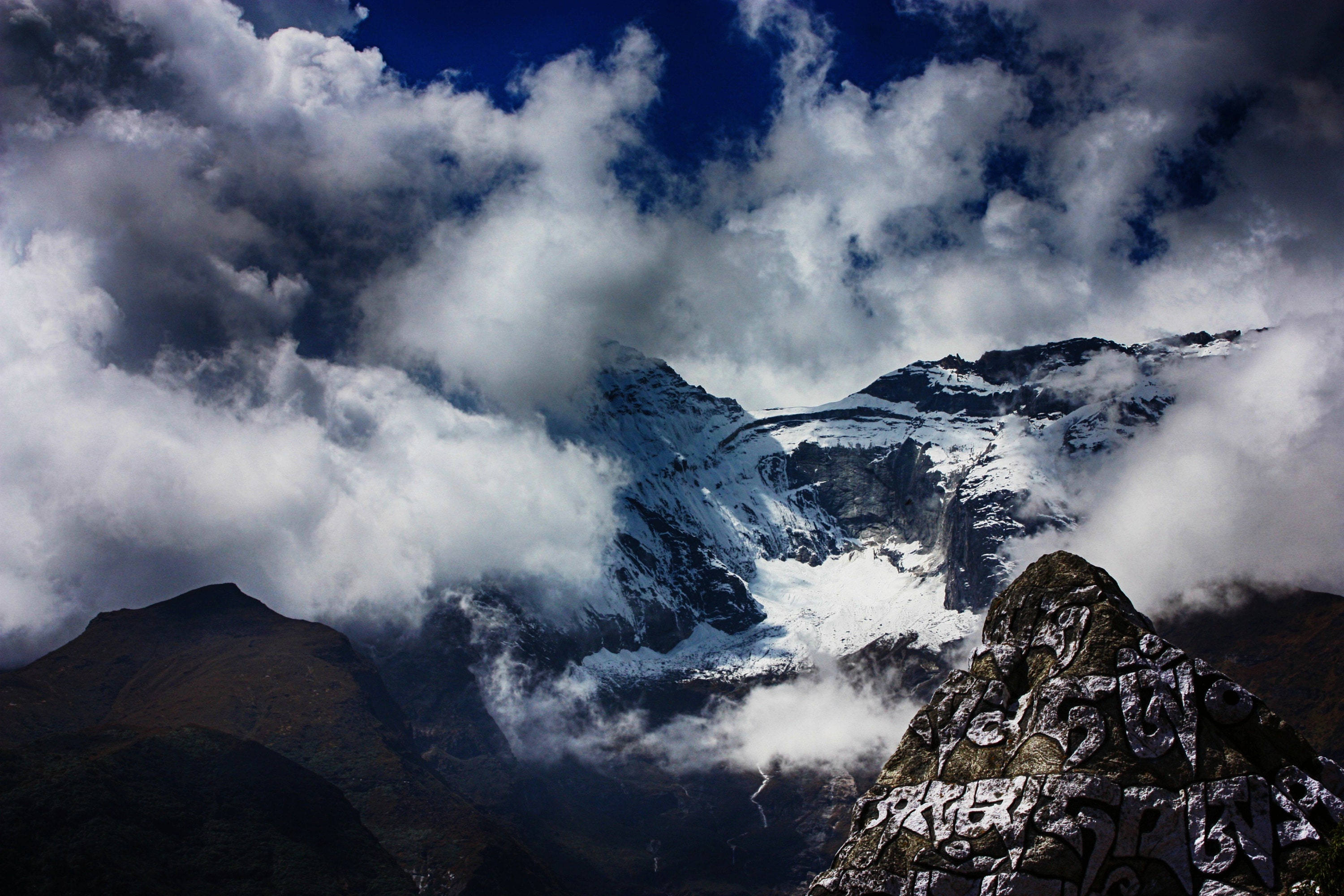 Dramatic clouds over the mountains.
  We got up super early the next day as it was Base Camp day. I bandaged up both my knees for support and we headed towards Gorek Shep where we would have a "second" breakfast. It was going to take approximately 3 hours to walk there and I decided to make this my goal for the day. If I tried to think about getting to Base Camp I would have been overwhelmed with the fact that we would be walking in extremely high altitude for at least 10 - 11 hours. So Gorek Shep was my goal, once I had reached there then I would think about Base Camp.  
We walked on and the trek got tough. Once again there were impossible hills to be walking up and down and the track was crowded with a million other Base Camp enthusiasts. I constantly had to stop and move out of the way to let other trekkers through. We were so high up in altitude now that walking just a few steps had you seriously short of breath. We walked on and on and I found my energy rapidly evaporating and I had an intense headache.  After walking for a while we came out on a huge narrow ridge. I kept powering on but felt worse with every step. I made a deal with myself to get to the end of the ridge and then see what was next. If we were still a while away from Base Camp I was almost 100% sure I wouldn't make it.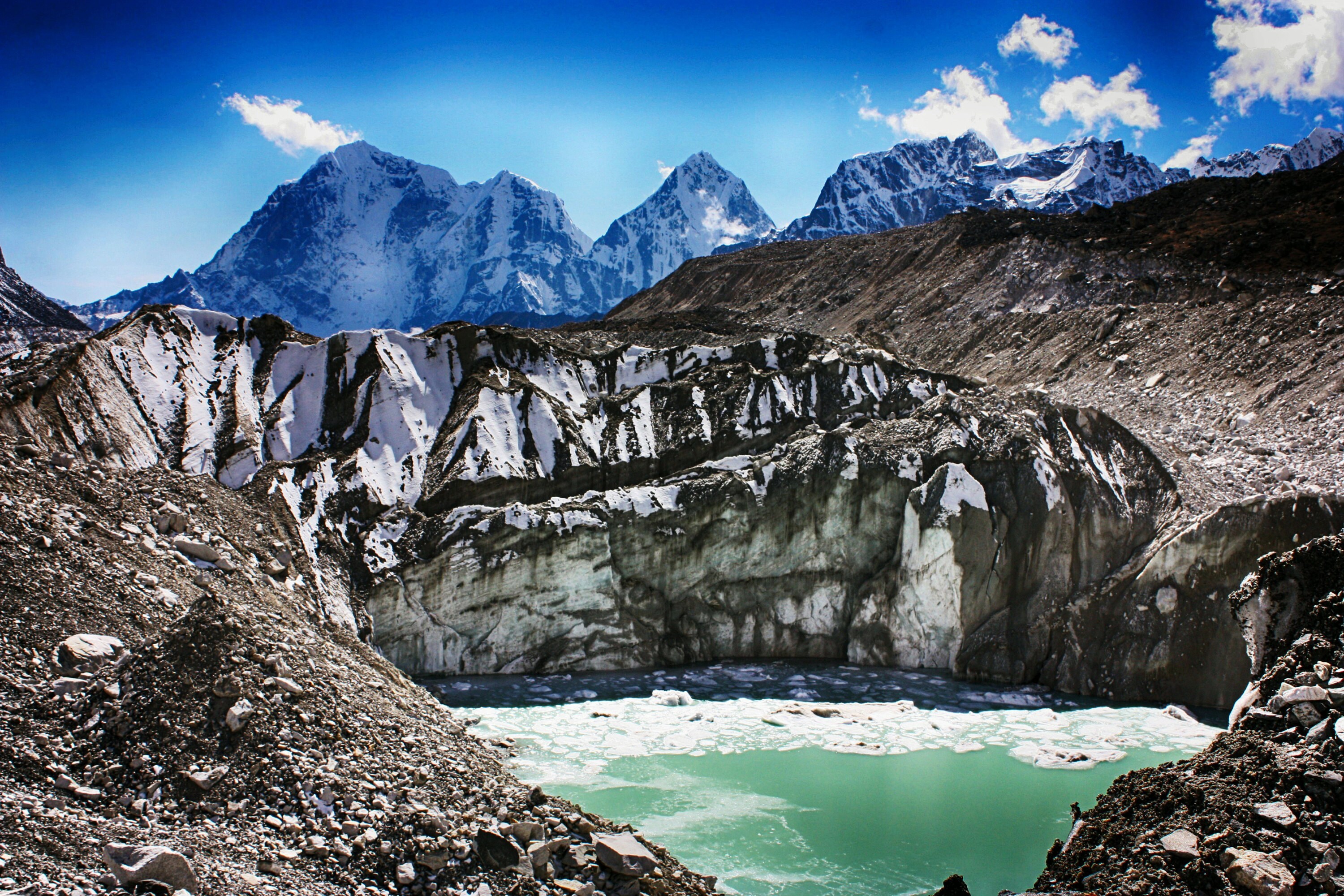 The otherworldly landscape close to base camp.
I walked on, every step hurting my knees and putting pressure on my sinuses. Finally I could see the end of the ridge. The group had stopped for a drink break and as I approached them the last bit of my energy disappeared. I could see a hill to walk down and my body just stopped. I honestly could not go one step further. Our guide came to ask if I was ok and I burst into tears.  I tried to contain myself and said that I couldn't go on. Of course the problem now was that I had walked for 3 hours to get where I was. This meant I still had to walk for 3 hours to get back to Gorek Shep.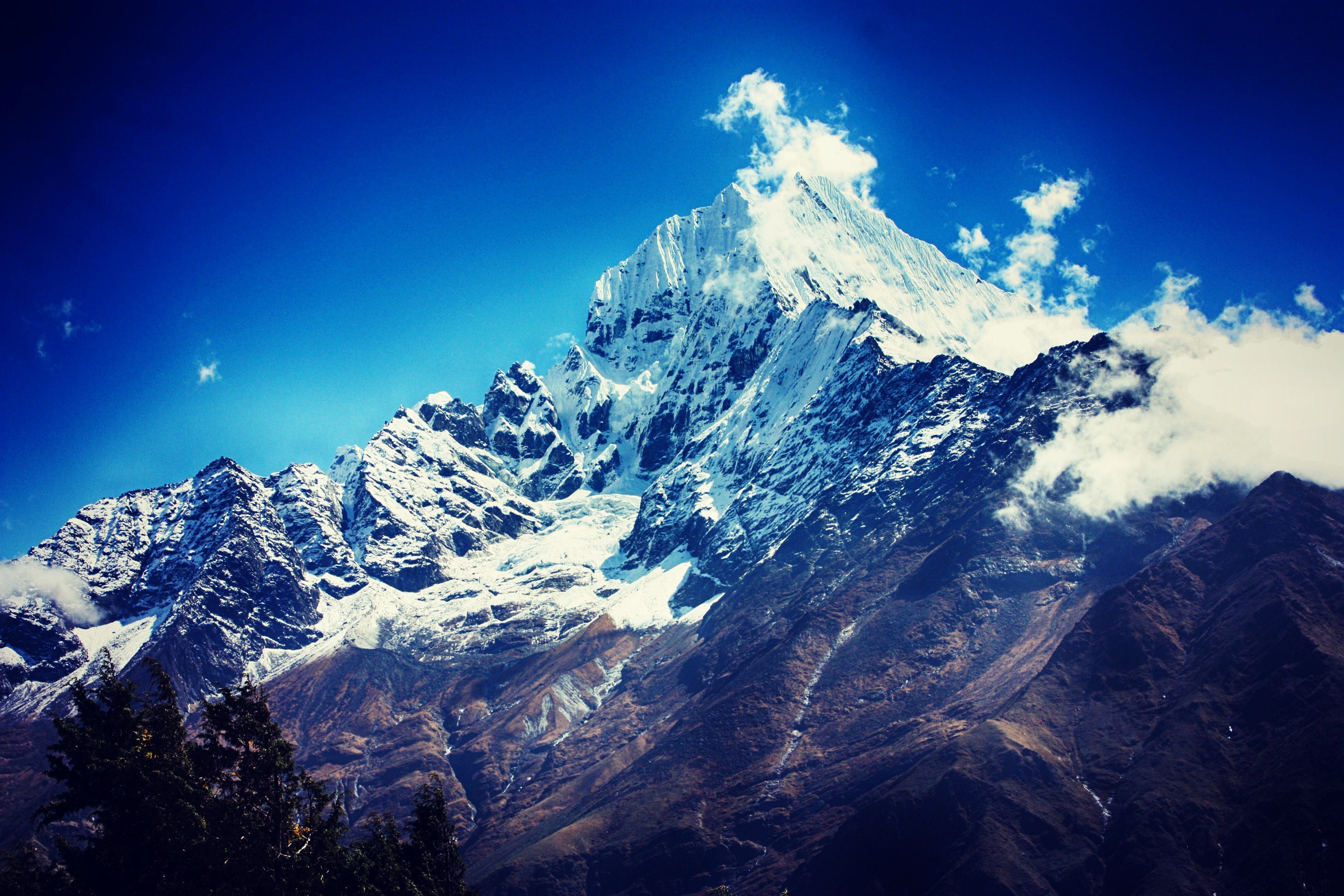 Beautiful mountain peaks in the Himalayas
My guide told me to turn around which I did. "We're at Base Camp" he informed me. The ridge that we were standing on overlooked Base Camp and therefore was actually higher in altitude (approximately 5400 metres). I had made it!  We spent the next 6 days coming back down the mountain. My knees were swollen and bandaged and I had to walk with the aid of trekking poles. But I was happy! A non trekker from the tropics had made it to Base Camp and back. Now all I had to do was survive the flight out of Lukla....  
For more Mt Everest photos click here