I felt stoned. That was the only way to describe it. I was light headed and giggly and I was certain I was walking like a Thunderbird puppet. I had just arrived in Lhasa, Tibet, otherwise known as The Roof of the World. Which is a rather apt title since I was now 3,650 meters above sea level. It's a strange feeling being up so high in the altitude and until you acclimatise there's no escaping that feeling of being stoned. But this wasn't the highest I was going. No, I was heading to Mt Everest Base Camp which was 5200 meters up. So if I was feeling stoned now, it was only going to get worse.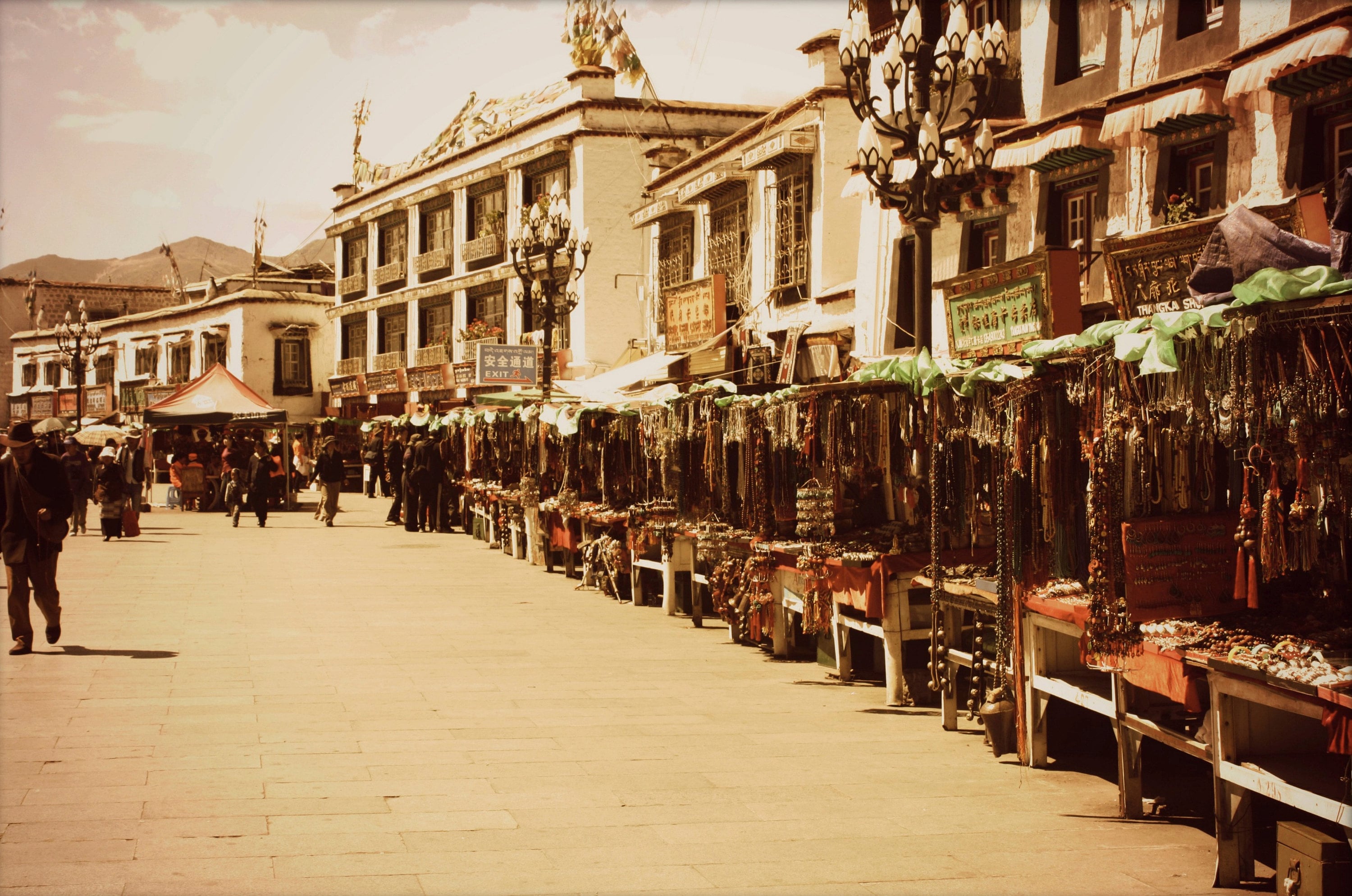 Markets in the square in Lhasa, Tibet. 
Mt Everest has long captured the imagination of man. Every year scores of people attempt to reach the summit. But I had no intention or desire to go that far. Base Camp was enough for me. Actually I was so keen to do Base Camp I was doing it twice. For those of you that are unaware there is two Base Camps. The Tibetan side is known as the North Face and was the route taken by George Mallory in 1924. Base camp in Nepal is the South Ridge and was the way Sir Edmund Hillary trekked back in 1953. Well I was doing both.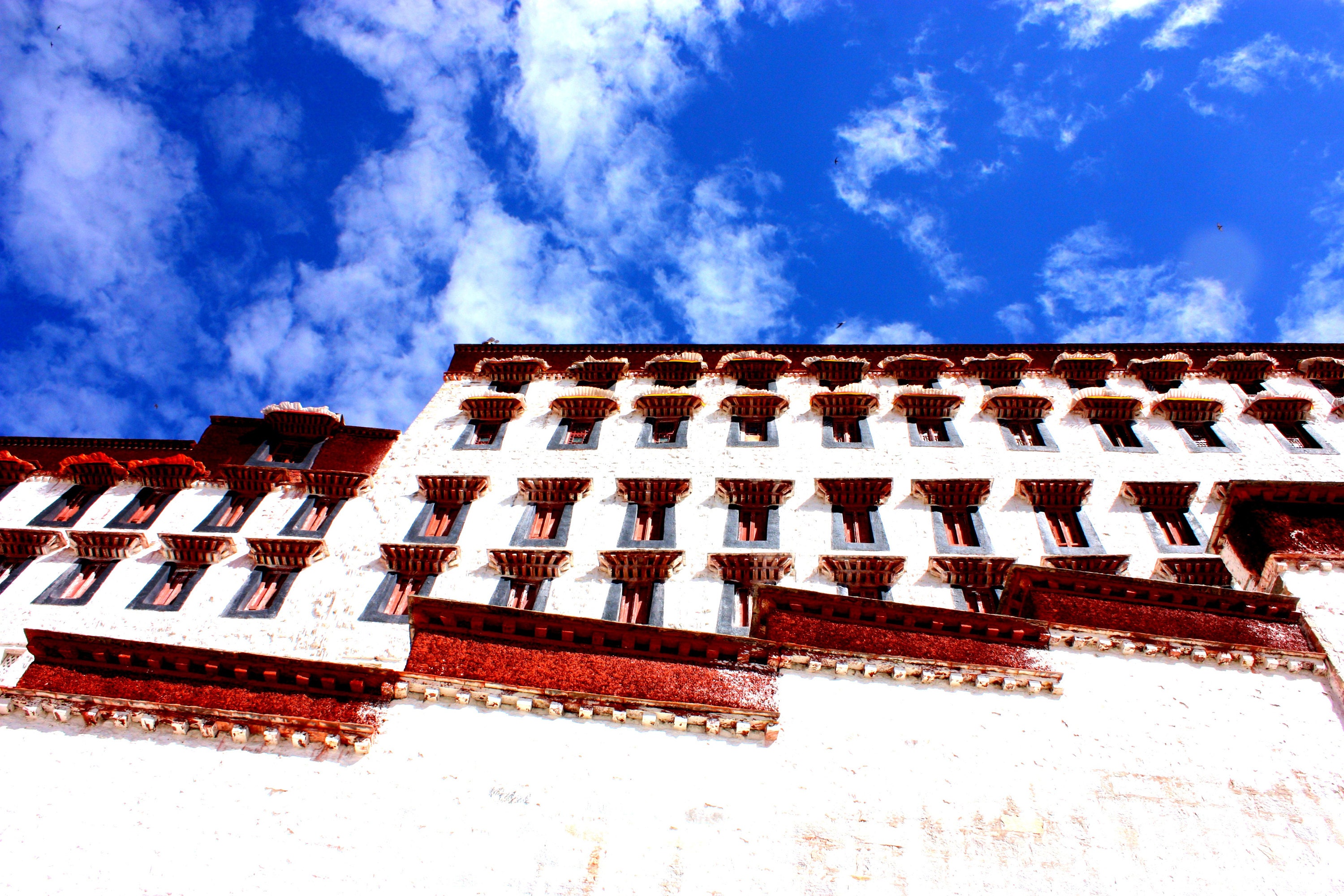 Looking up at the Potala Palace in Lhasa, Tibet. 
I acclimatised in Lhasa quite well. After a day or so the dizziness had passed. I decided, against my better judgement, to not take altitude sickness medication. It was a decision I would later regret. After a few days in Lhasa we loaded up our bus and headed out to the Tibetan country side. We drove over passes that were 5000 meters high but we never stayed there long enough to acclimatise.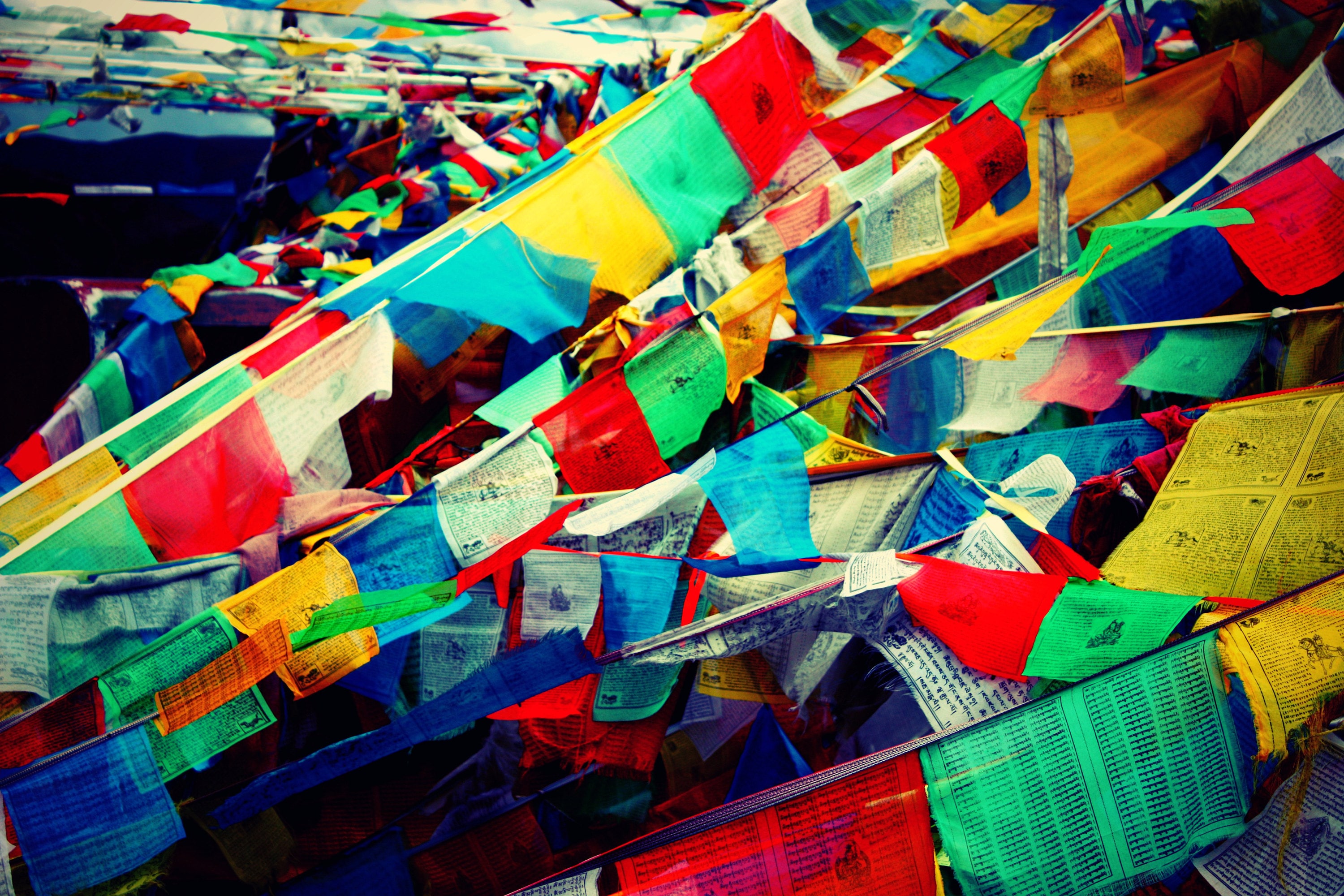 A tangle of colourful prayer flags high up on a pass.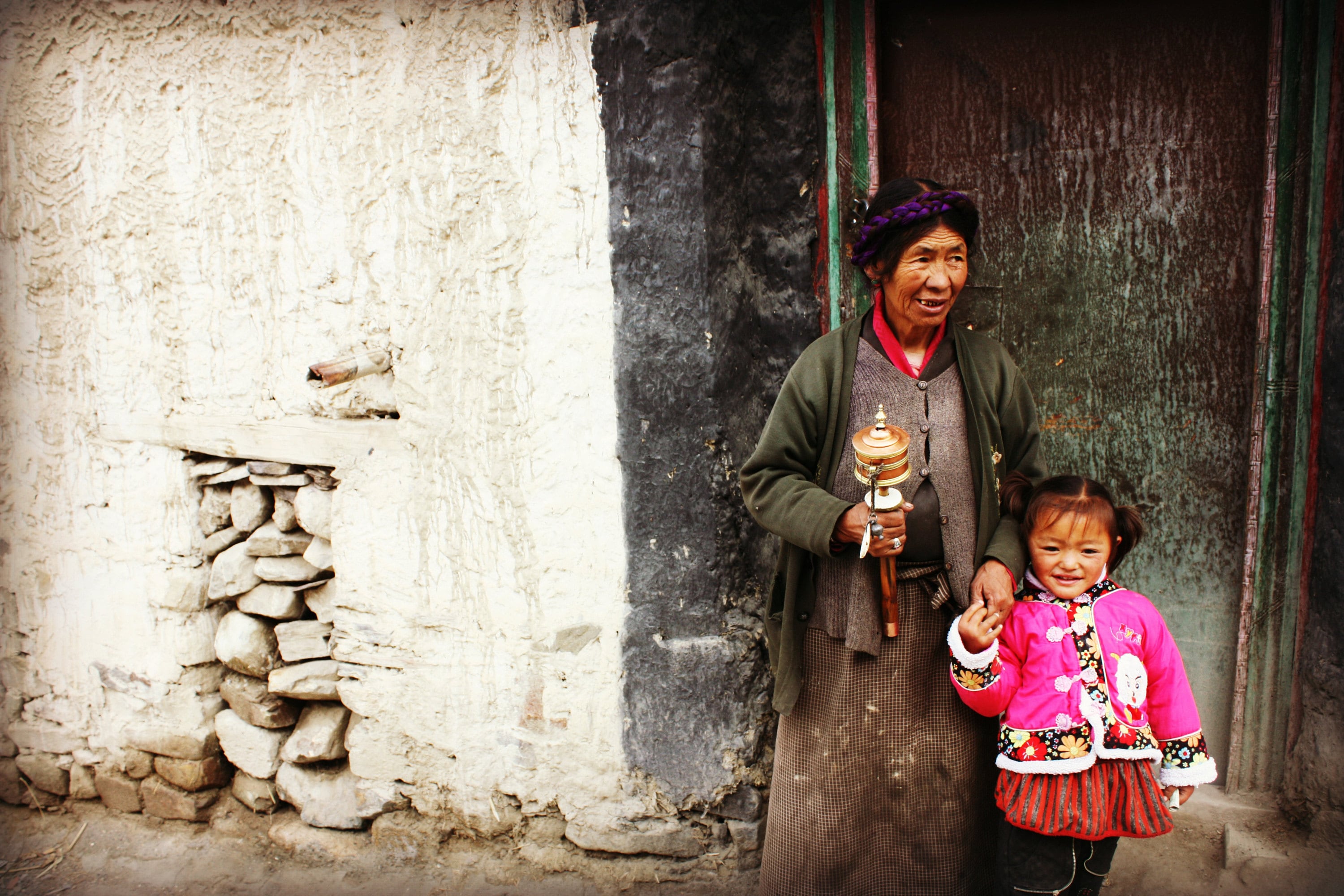 A young Tibetan girl with her grandmother.
Finally we entered Mt Everest National Park. The road went from smooth pavement to a badly maintained dirt track full of potholes. We bounced our way along with the bus protesting loudly. At one stage we hit a hole so big that I came flying out of my seat and rammed head first into the ceiling of the bus. My head cracked so loud that everyone turned around to see what we had hit. I certainly did not need concussion on top of the effects of the altitude. After six hours of driving we finally made it to Rombuk where we would be camping for the night.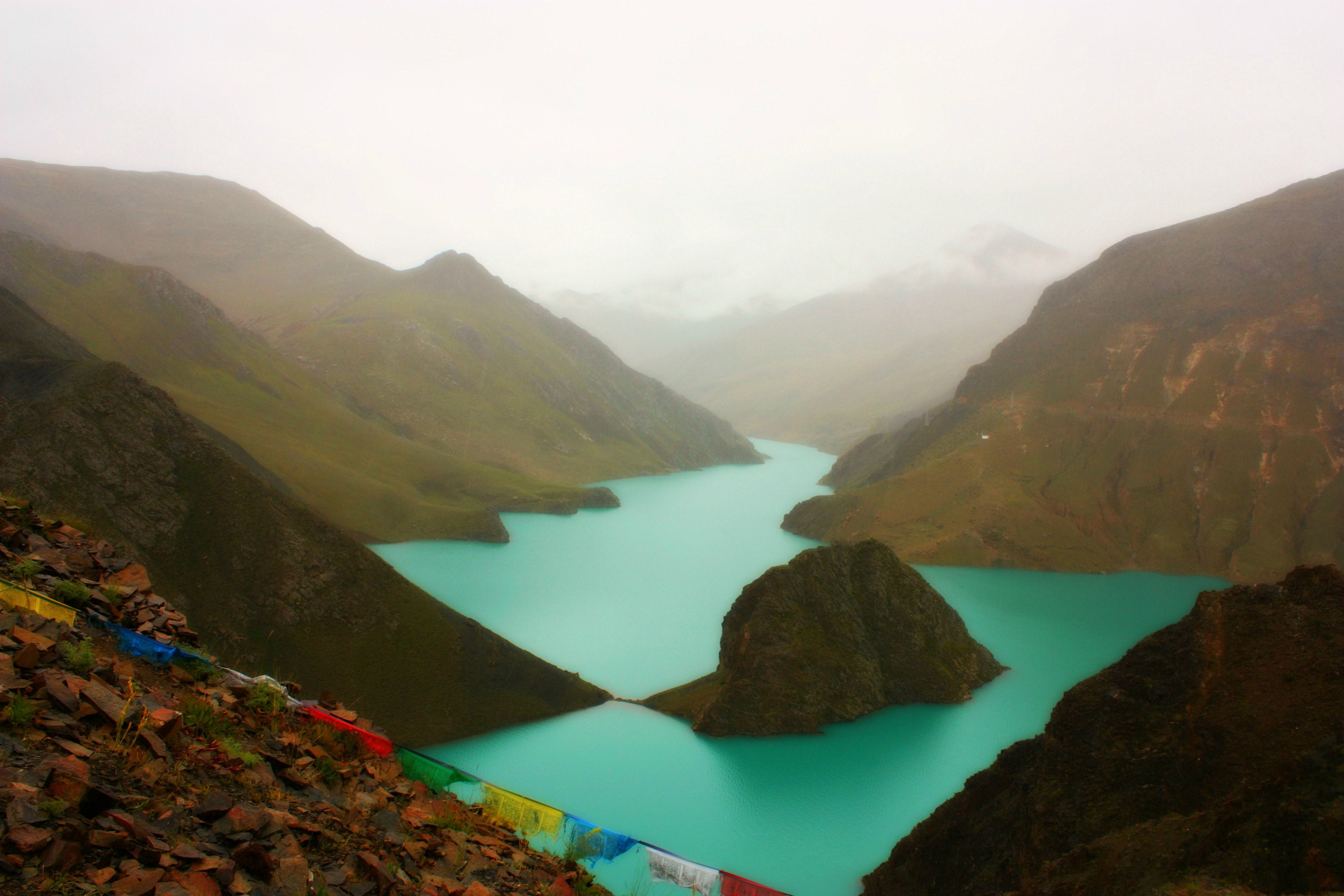 The untouched and otherworldly Yamdrok Lake. 
Our guide informed us that if the weather was favourable we would be trekking to Base Camp as soon as we arrived. I can tell you right now that this was the last thing I felt like doing. My head hurt and the altitude was giving me the worst sinus headache I had ever experienced. But we were told to put our backpacks into our tents and to get ready to go. Our guide reasoned that not only was he not sure what the weather would be like tomorrow, but after spending the night at 5000 meters it would be too tough for us to do the walk the next day.  
  The walk to Base Camp was only 5 kilometres but it would take us a couple of hours due to the lack of oxygen. When you cant breath it's very hard to move quickly. We had a brief meeting and were told by our guide that we could walk there but he insisted that we all catch the bus back. Bus? I guess that was one of the effects of Chinese occupation in Tibet. They had built a road to Base Camp and put in a bus service. There was also a post office at our camp site.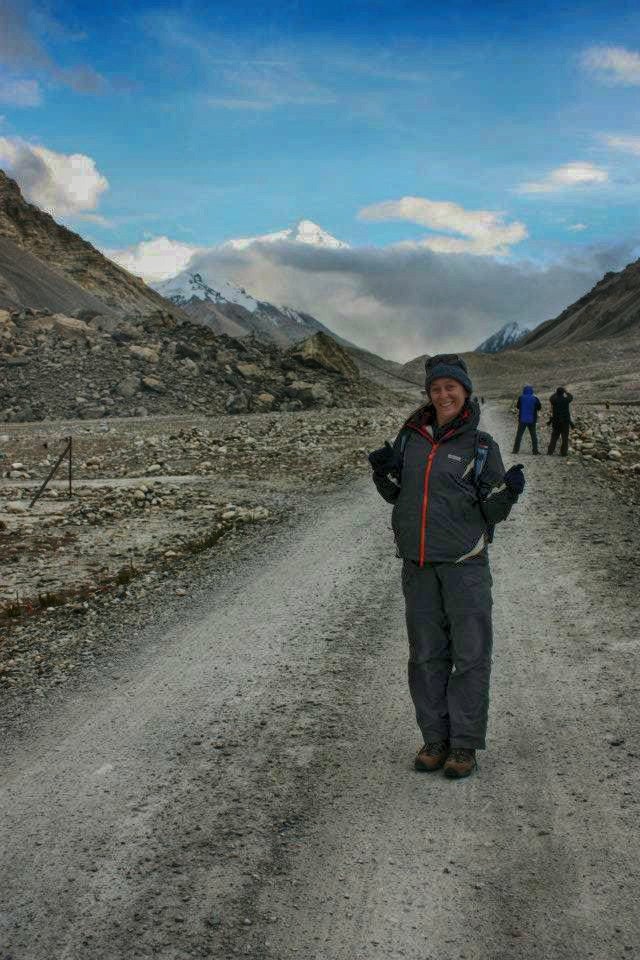 The start of the trek. If you look closely you can see the peak of Everest just above the grey clouds. 
  Once we were on the road I couldn't help but feel excited. I temporarily forgot about how bad I felt. The landscape that surrounded me made me feel like I was walking on the moon. It was so arid and dry and was made up solely of rocks. Behind us a stray dog was following. He looked out for us and waited every time we stopped. He kept his distance but we couldn't help but feel that he was watching over us. We walked at a snails pace but breathing so heavily you have thought that we had just run a marathon. Just when you felt that maybe you wouldn't make it, the clouds would clear and right in front of you was the peak of Everest. It's the most magical thing I've ever seen.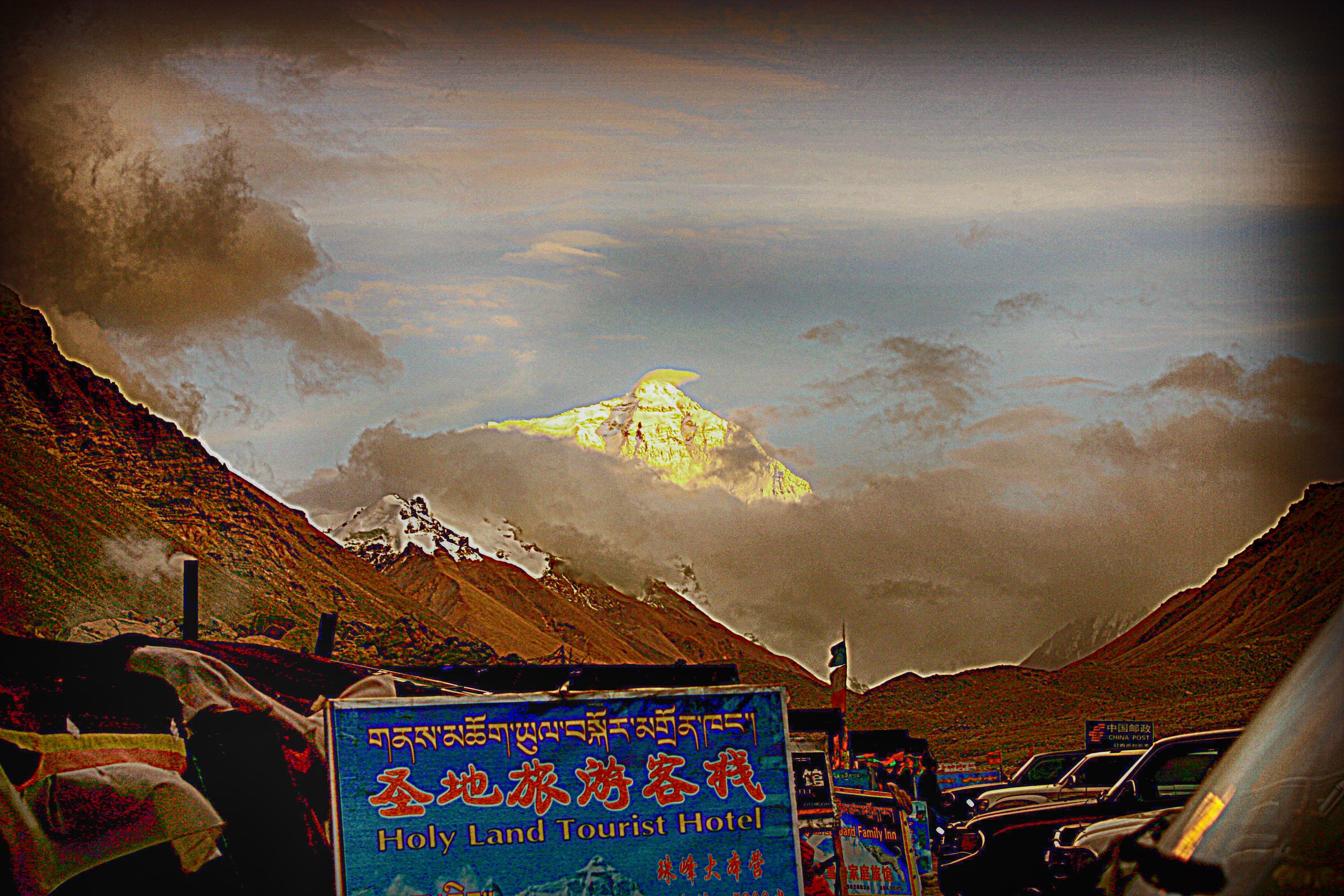 The sun setting over Mt Everest.
We walked on slowly making our way up the winding road. After a couple of hours we had reached Base Camp. I stood there looking at the peak and couldn't believe I was here. I was now at 5200 meters and my elation trumped my altitude sickness. This truly was one of the most amazing experiences of my life. After endless photo's at the Base Camp sign it was time to take the bus back to camp. The whole group was animated and chatty on the way back to our tent. We wanted to have a drink to celebrate but alcohol is not advised when your so high up.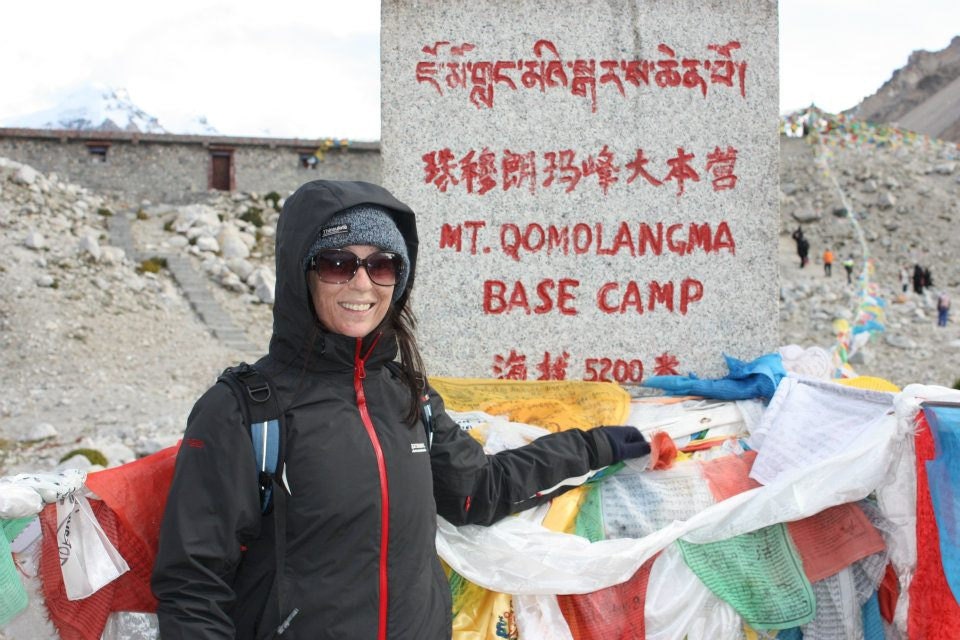 At base camp. Mt Qomolangma is the Tibetan name for Mt Everest.
The altitude had taken away my appetite so I barely touched my dinner. Our host literally tucked us all into bed after making us sleeping bags out of blankets. I was toasty warm and felt like I was in a cocoon. But I had the worst nights sleep I think I have ever had. I felt nauseas and had a splitting headache. I craved oxygen. The next day we loaded up the bus and drove on to the next town. I wondered how I was going to do this all again in Nepal. It was a two week trek to Base Camp from the Nepal side and I wasn't sure if I was up to it. But one thing was for sure, as soon as I got to Kathmandu I would be buying enough altitude medication to fill my backpack! 
My prints from Tibet are available here