Palawan was probably the place I was looking forward to the most on this trip and even though I wasn't going to the super touristy El Nido, I was still looking forward to hanging out in Puerto Princesa for a week. Despite the fact that I didn't have a flushing toilet and there were literally only about three places I could eat (McDonalds, Chow King and the small cafe up the road) I was still optimistic.    
One thing I really wanted to do was to go to Honda Bay. There was a series of islands you could spend the day visiting, and who on this earth would not want to island hop for the day! I had visions of white sand beaches, endless palm trees, snorkelling and starfish. Starfish Island was one of the islands I wanted to visit, I wasn't just randomly hoping there would be starfish. But it turns out Palawan had a different vision for me.  
The night before I was due to take my island hopping tour I watched a big storm roll in. The thunder and lightening was menacing and I was expecting to be hit with a typhoon of some sort. The storm turned out to be rather mild with it mainly being heavy monsoonal rain and that was all. The thunder and lightening faded and there was no wind. But obviously the lightening had done some damage somewhere because the power went out. Luckily for me Im from the Territory and big storms and power outages are a way of life so I wasn't really fazed. After a while I was starting to get hungry. I decided to try my luck at the cafe up the road. I walked up there and the waiter was at the front door greeting me with an enthusiastic "Hello Ma'am". "Are you open?" I asked. "Yes!" He replied. "So I can get something to eat then?". "No. We have no electricity". Thanks for that Captain Obvious. I walked back to my hotel wondering why the cafe would open if they couldn't serve anyone. Surely it would be best just to close and go home for the night….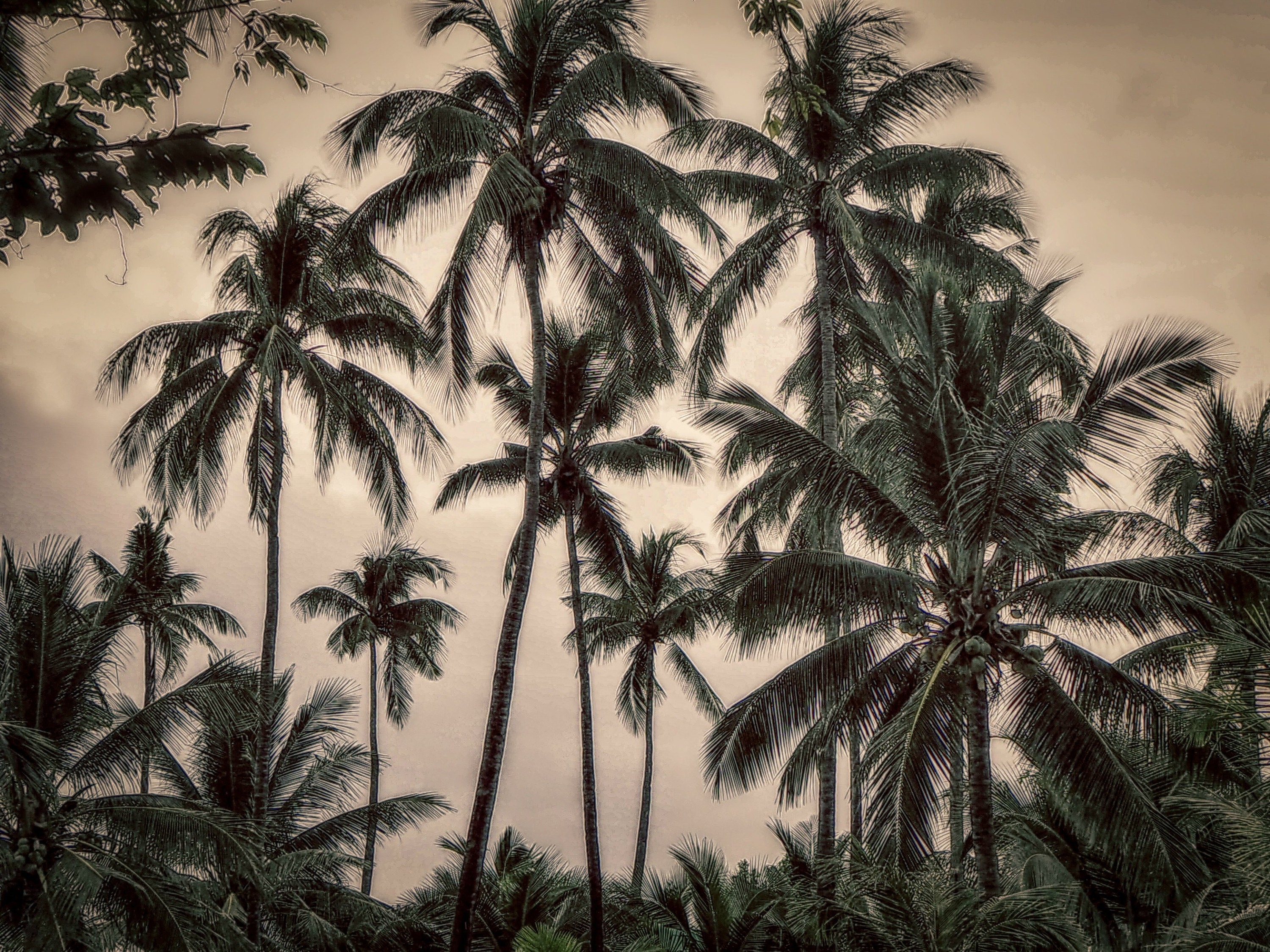 Cowrie Island 
I went to bed starving hungry with no power still. It eventually came back on about 5 hours later. I was hoping that this storm would be done with and tomorrow would be super sunny for my tour. I woke up and it wasn't sunny. It wasn't sunny at all actually. But it was only 6am so there was still plenty of time for the sun to come out. The tour bus came to pick me up and we started our journey to Honda Bay. We got down to the port and it was chaos. And it was weird but I was pretty much the only Westerner there. I thought for sure there would be a million tourists down here but apparently not. After swatting away vendor after vendor trying to sell me the same waterproof phone case, it was time to get on the boat.    
We cruised along the bay in a cool wooden boat and I watched the grey clouds getting thicker. Luckily Starfish Island was our first stop and I hoped to get some snorkelling done before the bad weather came. The island was small and you could only snorkel in a roped off area. I did a quick run around and got some photos on land but I wasn't happy with any of them. The clouds were ruining everything. I grabbed my snorkel gear and decided to try my luck in the water. I snorkelled out past the rest of the tourists there in search of a starfish of some sort. I saw some pretty coloured fish but no starfish. I kept going, swimming around and around and finally I found one. It was a pale pink colour and almost blended in with the bottom of the ocean. I took a heap of shots not sure if any of them were working. Turns out most of them didn't. The visibility in the water wasn't the best but I managed to get one good shot so I was happy.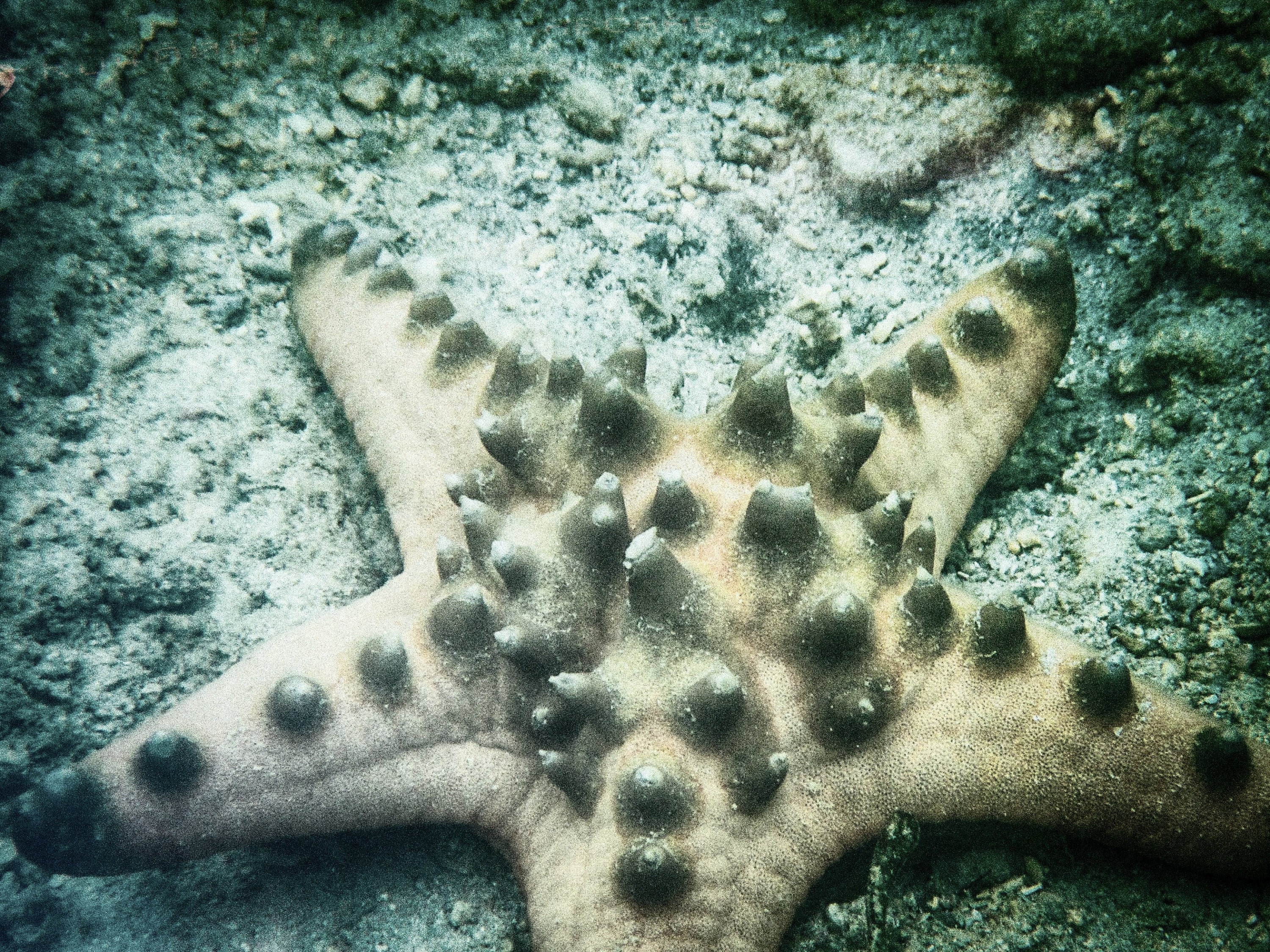 Starfish Island  
The next island we went to was Luli Island. It was basically just a sandbar and when the tide came in, the island disappeared leaving the stilted buildings seemingly floating on water. The weather had gotten progressively worse and now I was wet and cold. There wasn't much to photograph on this island so I just waited around until it was time for us to leave. We all piled back on the boat and headed straight for a massive storm. The sky was black and there was endless lightening. I don't know about you but I wasn't all that keen to be on a small wooden boat heading into a lightening filled horizon.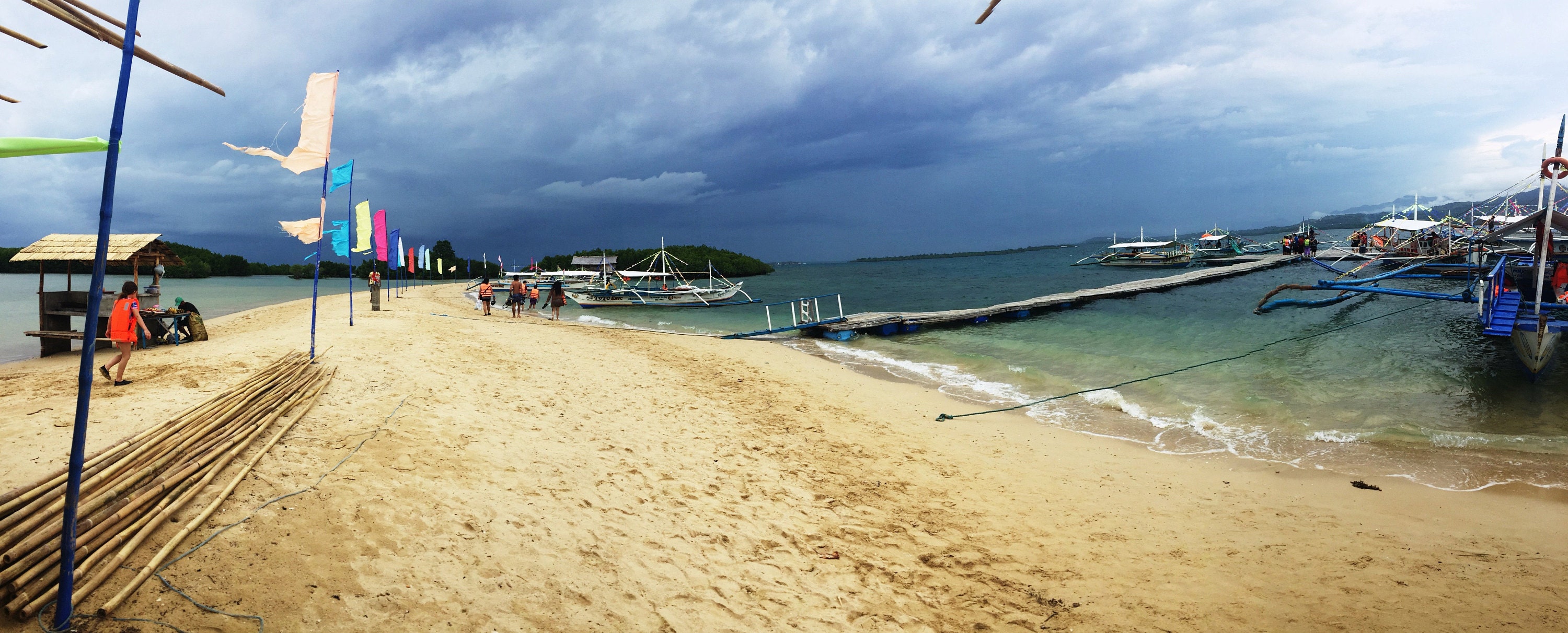 A stormy Luli Island  
The final stop was Cowrie Island. This was the biggest island and we would be stopping here for a buffet lunch which frightened me a little. As soon as we arrived the skies opened up and it poured. I grabbed the only two things I could eat of the buffet (I could have eaten the seafood if it wasn't covered in flies and was actually being kept warm) and ate my lunch. I then waited patiently for the rain to stop and when it finally did I ran around and took a million shots. Of palm trees mainly. We finally headed back to Puerto Princesa and all I wanted was to get out of my wet clothes and into a hot shower. But I knew that wasn't going to happen because, hey, my hotel didn't have hot water either…….